You have probably heard of some virtual phone number services that give you for free. You can find them by searching "free SMS number verification". But wait – I will stop you here, because most of these services cannot be used to verify Gmail, Facebook, Twitter, Whatsapp, Instagram, and other popular services. Do you want to know why? It is because these services are blocking these free numbers that are found on the internet. Spammers like to use these phone numbers to sign up for these sites, and create spam.
So what can you do about this problem? The answer is: you should get a private phone number that can only be used by you. Now I don't mean going to the telecom store and buying another SIM card, or even ordering a worldwide SIM card online. There are websites that you can buy virtual phone numbers that can be used for site verification.
What features do virtual phone number free services provide?
Virtual phone number free services provide just more than site verification capabilities. They can do things that most other phones can do as well:
They can send and SMS messages to anyone in the world
They can place and receive calls from any other phone number
Serve as an alternative to fax machines
Store your friends and family phone numbers in an address book
Some services can even identify the carrier of a random number.
Why do you need a virtual phone number free service?
Not everyone needs a second phone number. Indeed, if you already ave many phones inside your house, then you clearly don't need a free virtual phone number. But what if you only have one phone, and you are traveling somewhere and can't get another SIM card? Or perhaps you bought a phone like the iPhone 14, which does not have a SIM card slot in the US, and now you can't use it in a foreign country. In cases such as these, A virtual phone number free service will clearly help you.
How do I get a virtual phone number free service?
There are many websites out there that will give you a free virtual phone number, such as Hushed, TextVerified, Dingtone, Google Voice, Skype and others. But in this article, I will give you the best virtual phone number free service, that is designed only for giving people the experience of a real phone number. Here's how you do it in detail:
Go to the Blacktel website: https://blacktel.io
Click on "Free Phone"
Go to the Calls, SMS, or Fax section of the page in order to use the services for free
Go to the Blacktel website
The website has already been linked above in the previous list, but it's worth mentioning what Blacktel is.
Blacktel is a privacy-focused organization that runs a virtual phone number service. They go as far as making builds for all platforms (even Linux – they provide an installer for Debian systems) and accepting most forms of payments including cards and cryptocurrency.
Perhaps it is best to hear the introduction from the creators themselves:
We here at Blacktel.io are all about privacy and protecting one's privacy. Therefore, we created a service to help you make your life easier. With our virtual phone, you no longer have to give out your phone number, as you can use several virtual SIM cards for sending and receiving text messages, as well as making and receiving phone calls – and the best: you can do all that in your web browser or with the Blacktel App!

Blacktel is a website that offers free virtual phone numbers for businesses and individuals. With Blacktel, you can easily get a local or toll-free number that can be used for making and receiving calls and texts. Blacktels virtual phone numbers are easy to set up and manage, and can be accessed from anywhere with an internet connection. This makes them a convenient and affordable option for businesses and individuals who need to stay connected while on the go. Additionally, Blacktel offers a variety of advanced features, such as call forwarding and voicemail, to help you customize your phone system to meet your specific needs. Overall, Blacktel is a valuable resource for businesses and individuals looking to improve their communication and reach more customers.

https://www.blacktel.io/en/about
Click on "Free Phone"
So once you're on the Blacktel website, you should see the homepage: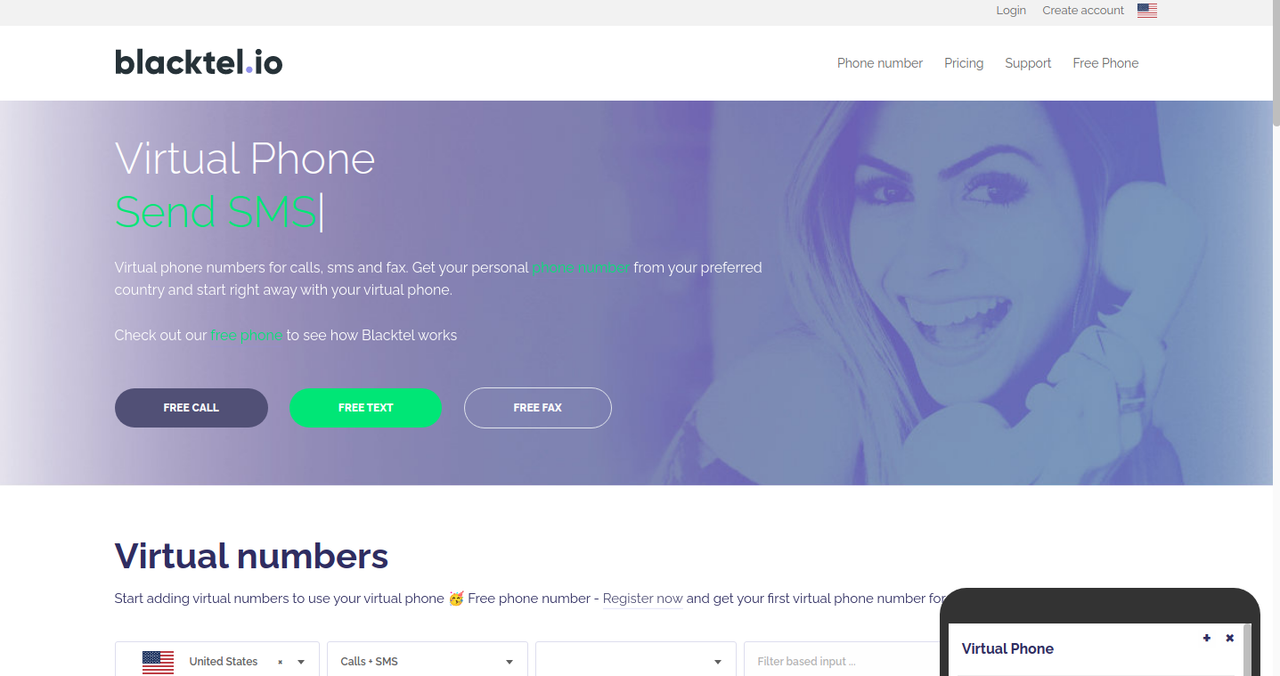 As you can see, they really do offer free phone and SMS service, with a few selected numbers. If you need to make a quick call or send an anonymous message, then this is a very good feature for you.
On the bottom right-hand corner, you might see a circular "b" instead, but if you click on it, it will reveal the virtual phone that is in the screenshot. To use this virtual phone, you need to log in or create an account with Blacktel, and then you'll be able to insert and phone number you want to call, and then turn on your microphone and speakers to place the call.
Go the Call, SMS, or Fax section accordingly
The Blacktel numbers are using VOIP technology in order to power these services. That means you can use these features right from the comfort of your web browser. Here are some screenshots of each of the pages: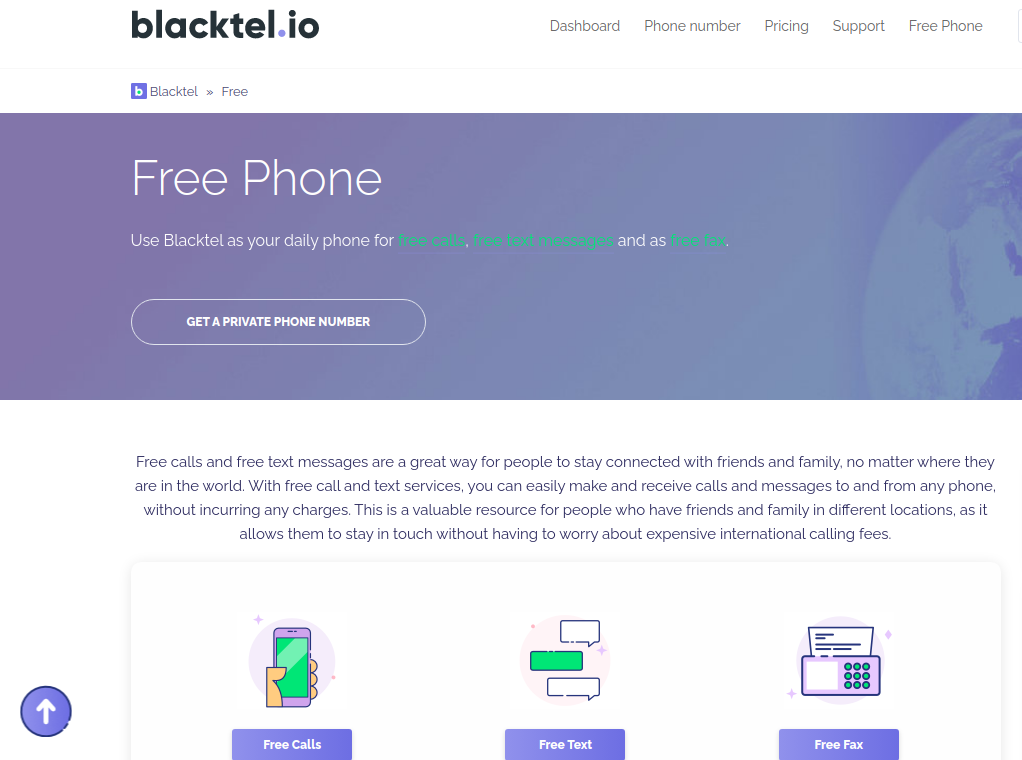 So as you can see, we have the following sections available: "Free Calls", "Free Text", and "Free Fax".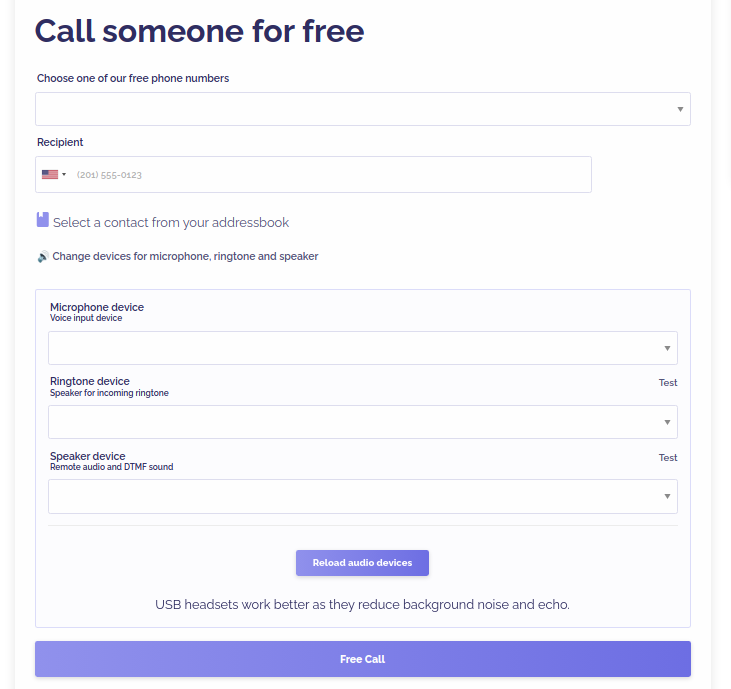 Using one of the free phone numbers, you can call any number in the world, and even customize the device to use for the phone Microphone, Ringtone, and Speaker. Definitely Edward Snowden-quality.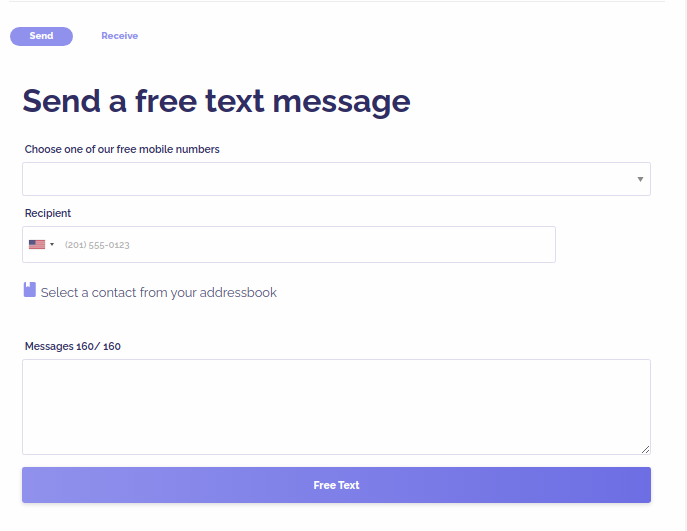 On this page, you can send and receive text messages, and you can send to any number in the world, of course. Sending is limited to 160 characters.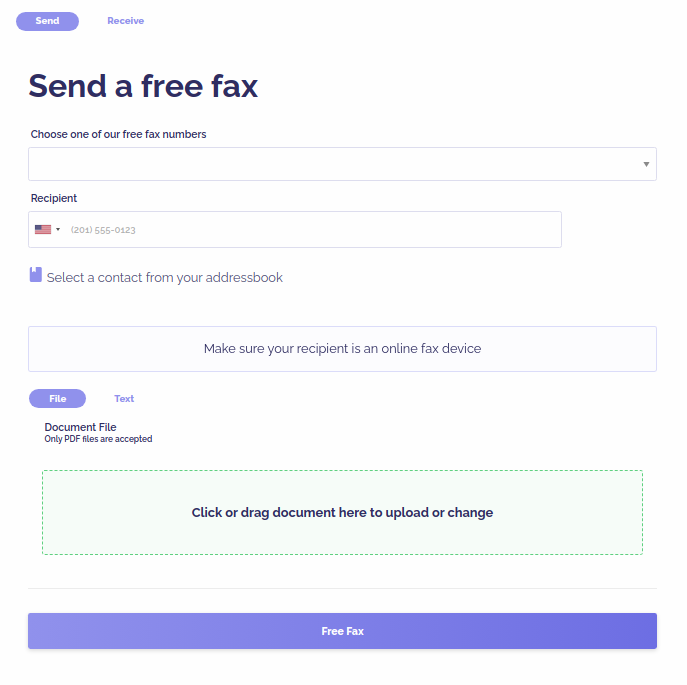 And on this page, you can send and receive faxes if you're that kind f person who still uses those machines. PDF files and plain text can be sent through the virtual fax machine.
Should you buy a private virtual phone number?
One of the limitations of the Blacktel free phone services is that there are a maximum number of times you can use them per day. That is because it is expensive to maintain all of the phones and mobile data rates as well as the cards, the faxes, the top-up fees, and so on. The quota is automatically reset each day.
Another downside is that everybody can see the messages and faxes that you receive. Given that, and the fact the free phone numbers are not permanent, should push you to make the choice to buy your own virtual phone number. But don't worry. Blacktel sells a lot of these numbers. Just create an account and scroll through the homepage for a list of available numbers. Happy calling!