Keystone Pro has been created as a 100% air-gapped wallet for users and it supports QR codes transmissions. As you know, cryptocurrency wallets are an important part of our business in this digital world. If we do not have a high-security wallet, there is always the risk of losing our assets. In the following, we will review the Keystone Pro hardware wallet and how to set it up. We will also review the contents of the Keystone Pro box together.
What is Keystone Pro?
Keystone Pro is air-gapped as a secure hardware wallet. This modern wallet uses QR codes for signing transactions and reduces the risks and increases the security of transactions. This wallet supports multiple cryptocurrencies and provides a good user interface. The Keystone app also allows your wallet to connect to iOS and Android devices and it uses it to sign transactions.
Keystone Pro Security
This wallet has high security. Having EAL 5+ Secure Element chip and anti-tamper self-destruct mechanism increases the security of your wallet. It ensures that security mechanisms are activated in the instance of lost of wallet. Also, having a fingerprint scanner, pattern lock, the password can keep your device secure. But this is not the end as the firmware is open source. So in terms of security, the Keystone Pro wallet has acceptable performance.
Keystone Pro design
The first thing you see in the design of this wallet is a 4-inch touch screen which makes this wallet easy to operate and a body made out of fiberglass with dimensions 112mm x 65mm x 18mm, weighing 115 g (without batteries).
What's in the Keystone Pro box?
The Keystone Pro hardware wallet box comes with the following:
Keystone Pro hardware wallet
AAA battery holder
Rechargeable battery
Charging cable
Guarantee card
Keystone Pro hardware wallet features
fingerprint scanner, pattern lock, password
Anti-tamper self-destruct mechanism
4-inch touch screen
Guarantee card in the box
The firmware is open source
Support for iOS and Android devices
Setting Up Your Keystone Pro Hardware Wallet
Step 1
Press the power button and after turning it on, select the device language and click on NEXT. Then you need to go to Web Authentication. To authenticate your device, go to the following website:
https://keyst.one/authentication?locale=en
Step 2 (Authentication)
Note: Authentication detects the status of your device and will prevent supply chain attacks. Authentication will fail if your device is infected.
After entering the site, to display the Web Authentication QR code, click on the "Authenticate" option and click on "Scan QR Code" in your wallet.
Step 3 (verification code)
After scanning, Keystone will show the 8-digit verification code. Enter this 8-digit code on the website and click on "Verify". After that, you will see the message "Your Device is Secure". On the Keystone device, click "Success".
Step 4 (Set a Password)
In this step, you must set a strong password for your wallet with at least 10 characters. Note that this password is used to sign transactions. So please use a strong password.
Step 5 (Create Wallet)
In this step, you must select the "Create Wallet" option. Then click on "Next" and "I UNDERSTAND". A 24 words recovery phrase will now be created for you. It is recommended that you write these words on the Recovery Sheet and keep them in a safe place. Then click on "Recovery Phrase Saved" and select "Next Step".
Step 6 (Recovery phrase)
In this step, you have to enter the words recovery phrase that was created for you in the previous step and click on "Confirm" to create your wallet.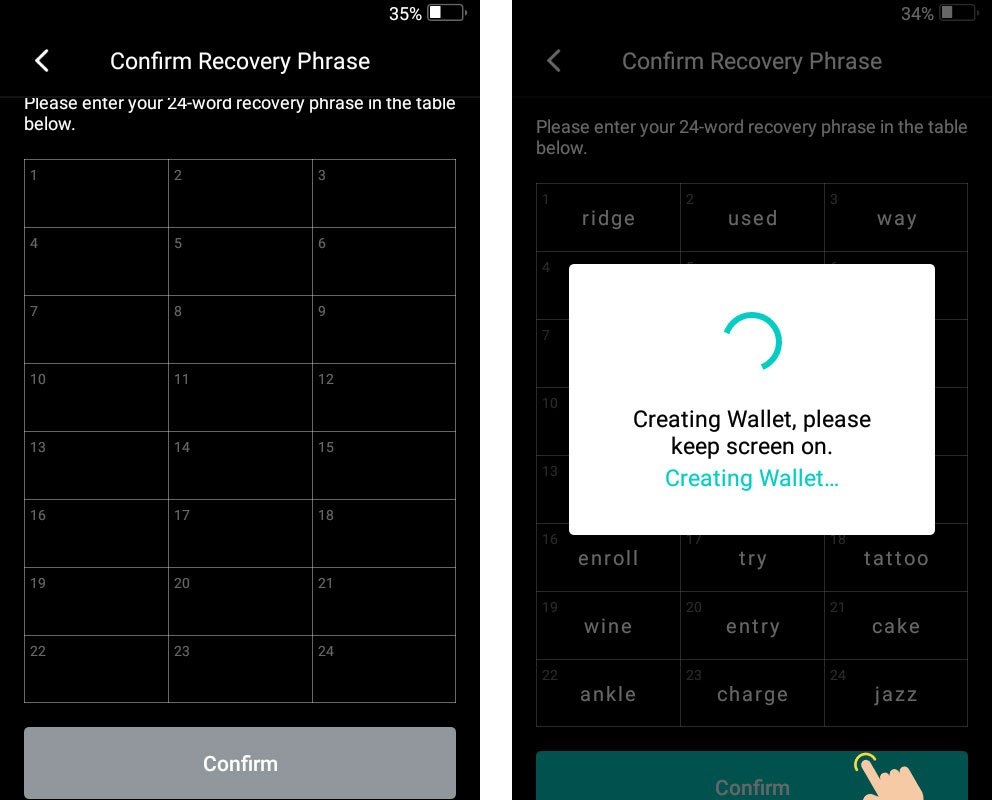 Note: The recovery phrase is actually the key to  accessing your wallet. If your wallet is stolen or lost, you can use this recovery phrase to recover it. I recommend that you save this recovery phrase in a safe place in multiple versions.
Keystone Mobile App
You can have the Keystone mobile app for Android and iOS devices and sync it with your wallet. To sync, first, download this app from Google Play or the App Store and install it on your mobile phone.
Launch the Keystone mobile app and click "Bind". Scan the QR code displayed in the Keystone hardware wallet. Once this process is complete, your wallet will be synced with the Keystone mobile app.
Coins Supported in Keystone Pro hardware Wallet
The full list of coins supported by this wallet can be found here. Curated below are some of the cryptocurrencies supported by Keystone Pro:
BTC
Ethereum
Ripple
Polkadot
Tether
BCH
LTC
USD Coin
Maker
ICON
ZRX
Nexo
BitTorrent
ChainLink
Huobi Token
IOSToken
ETH tokens
TRX tokens
…
Buy Keystone Pro hardware wallet
You can buy the Keystone Pro hardware wallet directly from the official site. The price of this device is currently $ 169.00 and compared to the features in this wallet, this price is relatively acceptable.
Note: To buy hardware wallets, preferably buy from the official site and store of the manufacturer. Third parties can reduce the security of your device.
Advantages and Disadvantages
Advantages
Excellent security
100% air-gapped wallet
Supports Android and iOS
Easy user interface
The steps to set up the device are relatively simple
Supports a large list of cryptocurrencies
Disadvantages
The price of this device is expensive for some people
---
Conclusion
If you care about the security of your digital assets, hardware wallets are definitely the best option for storing your cryptocurrencies. Keystone Pro hardware wallet with various features and easy user interface as well as excellent security can be a good option for you. Also, if you are interested in reviewing other hardware wallets, we have (here) reviewed some of these hardware wallets and their features.