BitBox02 Hardware Wallet is a product of the Swiss company Shift Crypto security AG and we see good features in this hardware wallet that can make this wallet the same level as other popular hardware wallets in the market. Also, this wallet has a beautiful appearance and excellent resistance, well designed for portability. BitBox02 is created in two versions: Bitcoin-only firmware & multi-coin
Design of BitBox02 Hardware Wallet
The design of this device is relatively simple and consists of a MicroUSB slot and USB-C connector. Also, the presence of an OLED screen with a resolution of 128 x 64 pixels could be the interesting point of this device. The dimensions of this device are 54.5 x 25.4 x 9.6 mm and its weight with packaging and accessories is 160g. Also, the presence of touch sensors on the sides of the device creates a smooth and simple user interface with this wallet.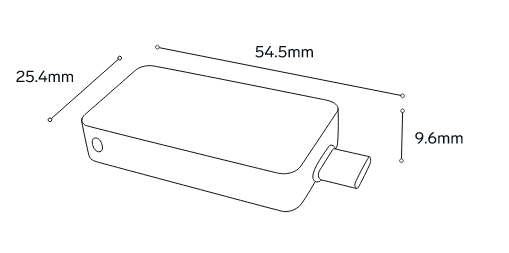 What's in the box?
Despite the excellent packaging of this device by the manufacturer, the possibility of tampering with the contents of the device is very low. When you open the box, you should see the following:
BitBox02 wallet
8GB Micro SDHC card
USB-C to USB type A converter
sheet of stickers
50cm USB-C extension cable
multi-colored keychains
getting started manual
Features of this wallet
The following is a list of BitBox02 wallet features:
Save a backup of the wallet on the microSD card (device security)
BIP 39 seed phrase can be created from BitBoxApp to increase security
Being open-source increases the security of the device
use the ATECC608A secure chip
The process of setting up this hardware wallet is simple
Existence of sensors on the sides of this wallet and creating an easy user interface
OLED screen with a resolution of 128 x 64 pixels
BitBoxApp and its great features for users (like buying coins)
The multi-coin version of this device supports Ethereum, Bitcoin, Litecoin, and most ERC20 tokens
The multi-coin version can be used as FIDO Universal 2nd Factor (U2F)
Enable custom fees & coin control settings
USB-C support allows you to connect this wallet to a new device
Activate Tor proxy to increase your security on the network
It can be used on computers and Android phones
How to set up your BitBox02?
Before you start setting up your wallet, you need to download BitBoxApp and install it on your mobile phone or computer. After downloading and installing this program, run it. Now, this program will ask you to plug in your BitBox02.
Note

: Before plugging in your BitBox02, be sure to insert the microSD card into the device. A microSD card is required to back up your wallet in the next steps.
After completing the above steps, connect your BitBox02 to the computer. The setup wizard now starts automatically.
Step 1 (Install BitBox02 firmware)
After connecting the wallet, you will see the message "BitBox02 bootloader" on the screen. All BitBox02 wallets are provided without the firmware installed. After this process, the device will restart automatically.
Step 2 (Confirm code)
You must verify that the code displayed on BitBoxApp and your BitBox02 are the same. If these two codes matched each other, you should now confirm it in your BitBox02, and in "BitBoxApp" click "Continue".
Step 3 (Create new wallet/restore wallet)
Now it asks you to select one of the Create new wallet/restore wallet options. Since we are going to create a new wallet, we click on Create a new wallet.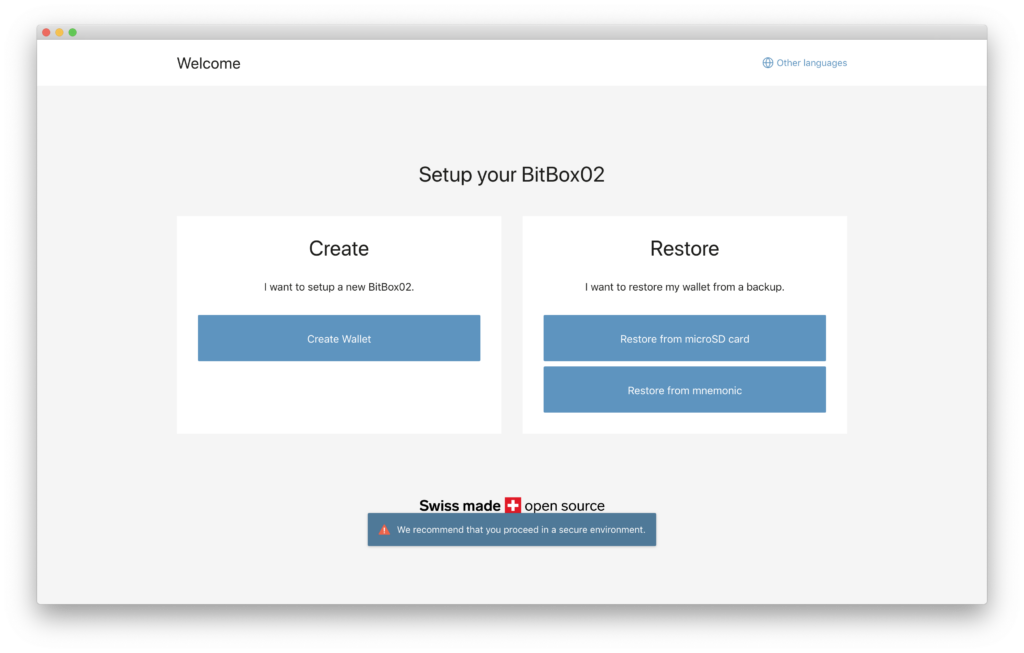 Step 4 (Create new wallet)
At this point, you need to choose a name for your wallet. This name can be anything. After selecting the device name, click on "Continue". You must also confirm the device name on your BitBox02.
Step 5 (BitBox02 Password)
You will need to choose a strong password for your BitBox02 device at this point. Note that you must enter this password each time you use the device. So, use a password that is not easily forgotten.
Step 6 (Wallet Backup)
After completing the previous steps, the BitBox02 will now make a backup of your wallet and save it to the microSD card. In the Create backup section, check the boxes and click "Continue".
Seed phrase (optional)
There is also a solution for users who prefer the seed phrase backup method to the microSD card. BitBox02 gives you seed words and you have to write them down on paper. So, after writing them, the device will ask you to enter these words in order, to make sure that you have spelled the words correctly.
Attention: Your wallet backup file on your microSD card is not password protected. So if someone has access to it, they will actually have access to your wallet. Please be very careful when protecting this microSD card.
Step 7 (Your BitBox02 is ready)
You can now remove the microSD card from the device and keep it in a safe place. This microSD card will only be used for you when you recover your wallet. Therefore, it is recommended to keep it in a safe place and try using a device without a microSD card. Because its presence in the device is no longer required.
Congratulations. Your BitBox02 hardware wallet is now ready to use.
RECEIVING ADDRESS FOR BITCOIN
If you want to create a Bitcoin address on your device, go to the left menu and select the appropriate coin. Then click on Receive at the top right of the page. You can now see the address and QR-code and use it to receive Bitcoins.
Note:

 To create a receiving address for other coins, you must do the same method.
Supported Coins
This wallet is created in two versions, the first version only supports Bitcoin. The second version supports Ethereum, Bitcoin, Litecoin, and most ERC20 tokens. However, the following is a list of coins supported by the BitBox02 wallet:
Bitcoin
Litecoin
Ethereum
Tether
USD Coin
Chainlink
Basic Attention Token
Maker
ZRX
Single Collateral DAI
Dai
PAX Gold
…
Buy BitBox02 Wallet
You can enter the purchase page of this wallet by visiting the official website of shiftcrypto, and clicking on the Buy now option. The price of this device is currently € 119.00, which is a reasonable price for its security and good user interface. There are also third-party sites that sell this wallet to you and I personally advise you not to buy from these people.
Note: To buy hardware wallets, preferably buy from the official site and store of the manufacturer. Third parties can reduce the security of your device.
Advantages and Disadvantages
Advantages
MicroSD backup process
beautiful design
Excellent user interface
Extremely secured
Touch sensors
Built-in USB-C connector
Open-source code
Disadvantages
Does not support iOS devices
Supports a small list of different blockchains
It may be expensive for some people
---
Conclusion
If you are looking for a modern wallet with a stylish look and easy user interface, BitBox02 Hardware Wallet can be a good choice among myriads of hardware wallets options in the market. Features such as high security, responsive touch-sensor buttons, and a simple setup process have made this wallet popular. However, if you are interested in other hardware wallets, we have reviewed some of these wallets (here).